Facile ouvert holographiques auto-adhésif bandelettes pour l'emballage de boîte
Détails d'emballage:

Sac PP et boîtes d'emballage hologramme à l'intérieur, carton d'exportation standard et ceinture blanche emballage extérieur

productivité:

10000000000

marque:

CMON

transport:

Ocean,Land,Air

Lieu d'origine:

Suzhou

Capacité d'approvisionnement:

1000000/Month
Informations de base
Modèle: YXCP-06
Type: Matériaux anti-contrefaçon
Matériel: ANIMAL DE COMPAGNIE
Fonctionnalité: Anti-fausseté
Usage: Film d'emballage
Sample: Available For Free
Material: PET Or Bopp
Keyword: Tear Tape
Pattern: Custom Hologram
Thickness: 28, 35, 36mic(general)/customiz
Color: Gold, Transparent, Silver, Etc
Feature: Anti-counterfeit Or Decoration
Security Processing: Micro Text, Optical Etching, Zoom In
Applicatioin: Medicine, Cosmetic, Cigarette, Etc Packaging
Width: 0.07 -5 Mm Or Customize
Description du produit
Facile ouvert holographiques auto-adhésif bandelettes pour l'emballage de boîte
Fonction de simple Ouvrez bandelettes holographique
Languettes, également connu sous le nom ruban de bande ou détachable tear est un étroit ruban adhésif utilisé pour ouvrir l'emballage, offrant la facilité d'ouverture, le renforcement et la sécurité à votre emballage. Nos bandelettes peuvent être appliqués à divers packs, cigarette, thé, vêtement, médecine, électronique, cosmétique, etc.

Nous aussi peut Suply tous types de ruban HolographicTear comme suit
Fiche détaillée de la bande holographique de larme
| | |
| --- | --- |
| Feature | With hologram security function |
| Material | PET, BOPP |
| Color | Transparent/Silver/Gold, etc |
| Price | According to different sizes/quantities/materials/processes |
| Pattern | Customize |
| Width | 0.7 -5 mm, Custom is available. Minimum size: 0.7mm |
| Thickness | 28, 35, 36 mic(general)/customize |
| Length of roll | 5000-10000 m per Roll , based on customers' requirements. |
Languette ouverte facile pour l'emballage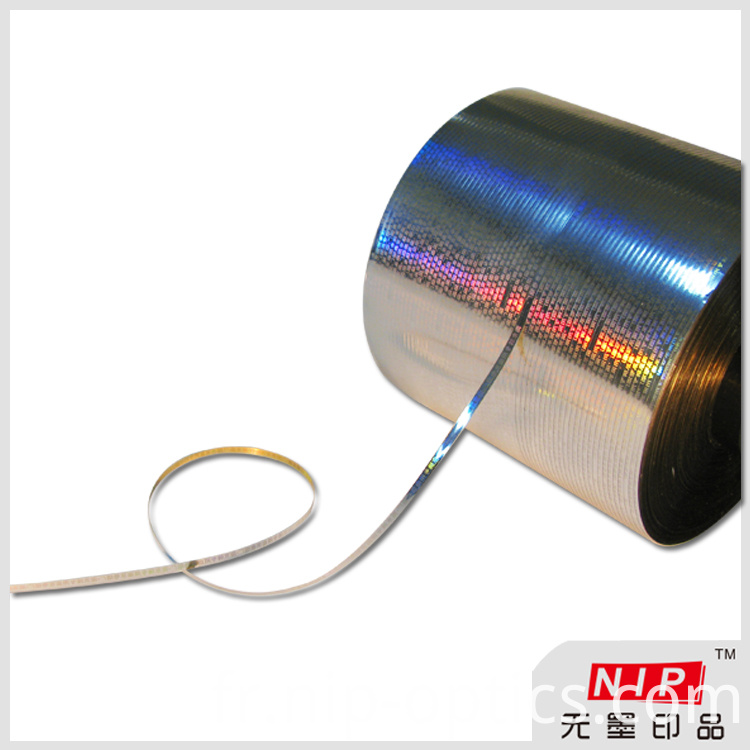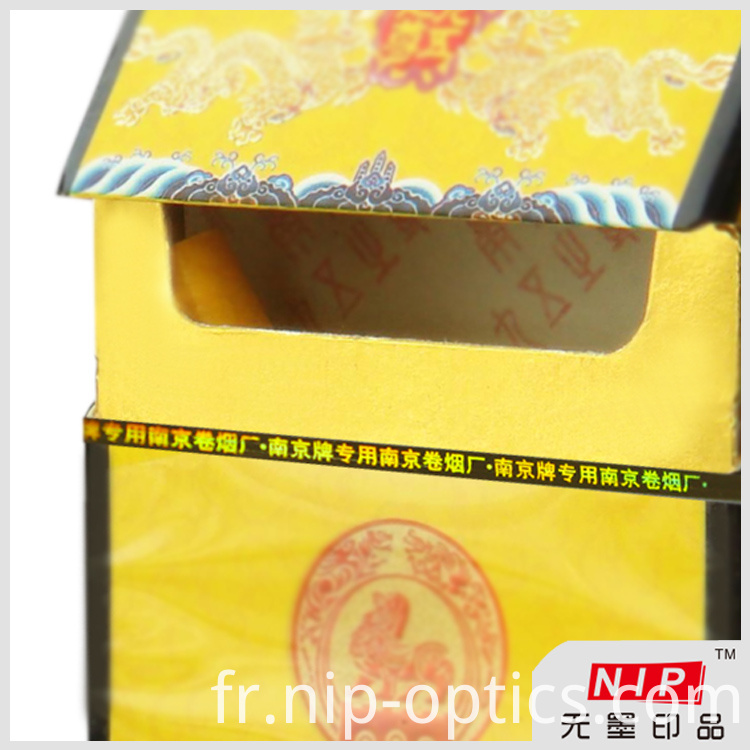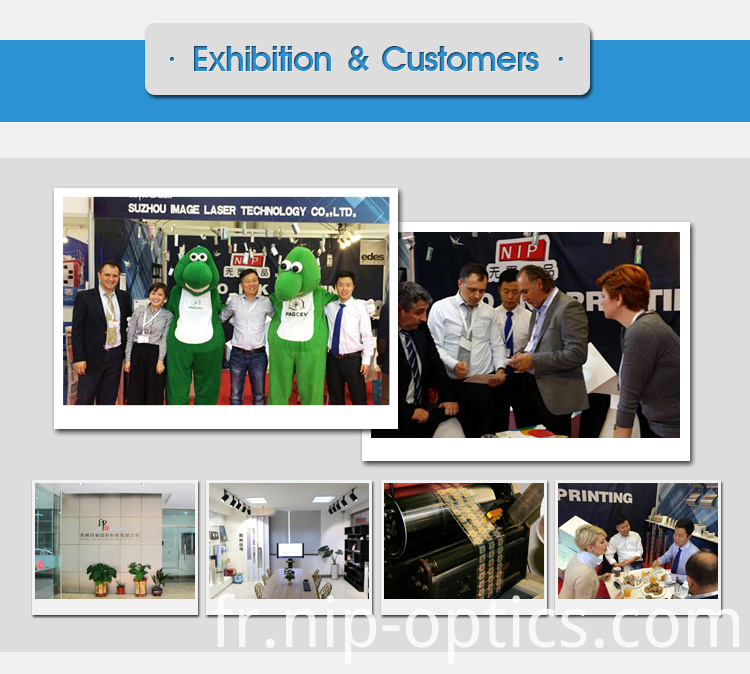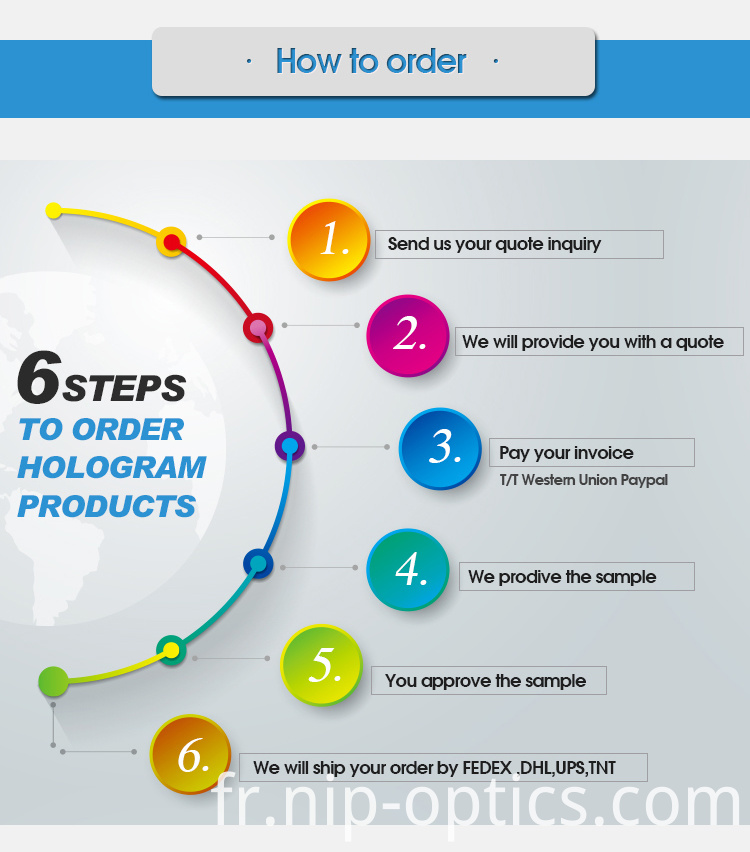 Foire aux Questions
1. quel est votre matériel de bande de larme ?
Généralement PET, matériau BOPP avec 28, 30, 33, 35, 36 microns, etc.
2. bandelettes holographique, toute spécification, n'importe quelle couleur, vous pouvez faire pour moi ?
Oui, disponible dans diverses spécifications et les couleurs, 0,7, 1, 2, 2,5 mm, etc.. La couleur peut être transparent, or, argent, etc. Ceux-ci peuvent également être personnalisés faits selon les exigences spécifiques de clients.
3. pourriez-vous m'envoyer quelques échantillons de bande lacrymal ?
Les échantillons sont disponibles, nous envoyons gratuitement avec fret recueillir. Veuillez fournir votre compte exprès ou s'il vous plaît payer les frais de transport pour nous. Nous allons organiser les échantillons dès que possible.
4. puis-je utiliser votre propre logo modèle ?
Bien sûr, notre équipe de conception professionnelle aidera vous concevez saisissant effet d'hologramme. Nous pouvons également ajouter Micro texte, texte masqué, eau-forte pixel tech haute sécurité etc. pour vous.
Bienvenue pour visiter notre entreprise. Pour plus de détails, veuillez visiter notre site Web http://gzlaser.en.alibaba.com/ ou http://www.nip-optics.com/
Groupes de Produits : Bandelettes holographique > Bandelettes adhésives auto